Health benefits of Aloe Vera
What is Aloe Vera?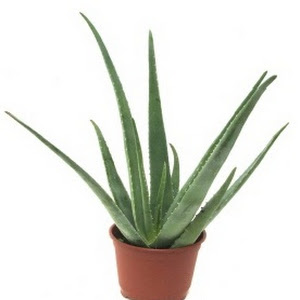 Aloe Vera is a semi-tropical plant & has a long illustrious history dating from biblical times.
It has been mentioned throughout recorded history and given a high ranking as an all-purpose herbal plant.
AloeVera is related to other members of the Lily family such as the onion, garlic and turnip families.
Traditionally, Aloe Vera was used topically to heal wounds and for various skin conditions, and orally as a laxative.Today, in addition to traditional uses, people take aloe orally to treat a variety of conditions, including diabetes, asthma, epilepsy, and osteoarthritis. People use aloe topically for osteoarthritis, burns, sunburns, and psoriasis.
Today the modern science have found many benefits of the plant such as;
PENETRATION – Aloe Vera has the ability to reach deepest body tissues some 7 layers deep
ANTICEPTIC – Aloe Vera has at least 6 anticeptic agents which kill bacteria, viruses and fungi
STIMULATES CELL GROWTH – Aloe Vera stimulates the birth of new healthy tissue
SETTLES NERVES – Aloe Vera has a clearing effect on the body's nervous system
CLEANESS – Aloe Vera detoxifies and normalizes the body's metabolism
Aloe Vera boosts immune function and destroys cancer tumors
Scientific research shows strong immunomodulatory and antitumour properties for aloe vera polysaccharides.
That means the gel helps boosts immune system function while destroying cancer tumors.
One study published in International Immunopharmacology (1995) showed that aloe vera
polysaccharides exhibited potent macrophage-activating activities including producing increased volumes
of nitric oxide (which has antitumor potential).
Visit "http://scholar.google.com/scholar?hl=en&lr=&q=aloe+vera+tumors" for more information.
There is nothing on this planet that offers the amazing variety of healing benefits granted by
aloe vera. In a single plant, aloe vera offers potent, natural medicine that:
• Halts the growth of cancer tumors.
• Lowers high cholesterol.
• Repairs "sludge blood" and reverses "sticky blood".
• Boosts the oxygenation of your blood.
• Eases inflammation and soothes arthritis pain.
• Protects the body from oxidative stress.
• Prevents kidney stones and protects the body from oxalates in coffee and tea.
• Alkalizes the body, helping to balance overly acidic dietary habits.
• Cures ulcers, IBS, Crohn's disease and other digestive disorders.
• Reduces high blood pressure natural, by treating the cause, not just the symptoms.
• Nourishes the body with minerals, vitamins, enzymes and glyconutrients.
• Accelerates healing from physical burns and radiation burns.
• Replaces dozens of first aid products, makes bandages and antibacterial sprays obsolete.
• Halts colon cancer, heals the intestines and lubricates the digestive tract.
• Ends constipation.
• Stabilizes blood sugar and reduces triglycerides in diabetics.
• Prevents and treats candida infections.
• Protects the kidneys from disease.
• Functions as nature's own "sports drink" for electrolyte balance.
• Boosts cardiovascular performance and physical endurance.
• Speeds recovery from injury or physical exertion.
• Hydrates the skin, accelerates skin repair.
any comments or views?